Other Recommended Titles:
Lighthouse Top 50 Premium Bundle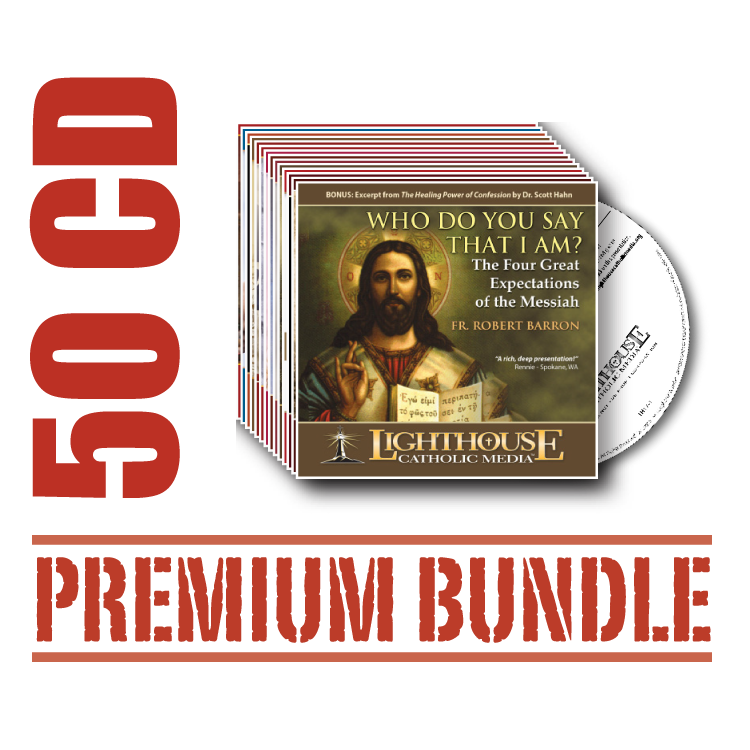 After numerous requests from our faithful listeners, we have compiled a "Best Of" Collection composed of our 50 most life-changing and popular talks. Now you can collect all your favorites at a 25% discount from the regular store price! Gather expert answers to practically any question you'll face! Listen at your own pace, and use these powerful CDs to be an evangelist everyday!


Includes
Qty
Title
Value
1
Anger and Forgiveness

Anger and Forgiveness

Catholic psychotherapist Deacon Dr. Bob McDonald provides a spiritual and psychological prescription for overcoming the sinful anger that poisons the mind of Christ within, causing alienation and division. His practical wisdom shows that only by learning how to forgive can we hope to promote healing and understanding in our relationships and enjoy the blessings of a forgiving heart.

$3.50
1
No Turning Back

No Turning Back

How is a diehard agnostic transformed into a fervent apostle of Christ? Fr. Donald Calloway, a former drug dealer, will have you on the edge of your seat as he candidly shares the amazing story of how he was unexpectedly led into the Catholic Faith and to the priesthood by God's grace and the intercession of the Blessed Virgin Mary. His conversion can be compared to that of St. Augustine. Formerly titled: Former Drug Dealer to Catholic Priesthood

$3.50
1
Why a Protestant Pastor Became Catholic

Why a Protestant Pastor Became Catholic

Dr. Scott Hahn explains through his legendary testimony how he was militantly anti-Catholic but self-driven to seek the truth. This ultimately led him into the Catholic Church. He soon became an ardent defender of the Faith and one of its most passionate promoters.


$3.50
1
How to Apply our Faith to our Families

How to Apply our Faith to our Families

Well-known speaker and author Kimberly Hahn is the wife of Dr. Scott Hahn and mother of six children. With simplicity, grace, and wit, she shares her personal experiences and practical insights on how to apply the truths of our Faith to everyday life. In this stimulating talk, she offers rich food for thought and concrete ways to let the Lord be the top priority in our family's daily life.

$3.50
1
The Bible Made Me Do It

The Bible Made Me Do It

Tim Staples was raised Baptist and served as an Assembly of God Youth Minister. He used his extensive biblical knowledge to attack the Catholic Church but when he was challenged on his beliefs, a two-year search for truth led him right to Catholicism. Now he uses that same incredible gift to defend the Faith and help others to embrace the beauty and richness of Catholicism.

$3.50
1
The Fourth Cup

The Fourth Cup

Well-known Catholic theologian Dr. Scott Hahn explains Christ's Paschal Sacrifice on the cross as the fulfillment of the traditional fourth cup used in the celebration of the Jewish Passover meal. He draws a symbolic parallel to the Last Supper and Christ's death on Calvary. Through his scholarly insights and important biblical connections, Mass will come alive for you as never before!

$3.50
1
Seven Reasons to be Catholic

Seven Reasons to be Catholic

Dr. Peter Kreeft is a world-renowned philosopher and best-selling author of over 35 books. Drawing from the treasured wisdom of such great spiritual thinkers as St. John of the Cross, Thomas Aquinas, C. S. Lewis, and Cardinal Newman, he helps us to understand why truth trumps everything! Listen as he clearly presents seven undisputable reasons why every person should indeed be Catholic.

$3.50
1
Confession

Confession

Based upon his proven and powerful parish mission presentation, Fr. Larry Richards' talk on Confession has become the #1 talk in North America dealing with one of the Catholic Faith's most misunderstood Sacraments. He is riveting, honest, very human, often touchingly gentle, and yes, even humorous, and provides listeners with hope for a closer, healing relationship with Jesus Christ.

$3.50
1
The Mass Explained

The Mass Explained

Inspiring speaker Fr. Larry Richards presents exciting and powerful insights into the history, spirituality, and biblical foundations of the Liturgy of the Eucharist. He opens the door for us to enter more profoundly into this most perfect prayer and unite our offering with that of the priest. This will change the way you experience this most sacred of all mysteries, the source and summit of our lives.

$3.50
1
15 Things to Do in the Midst of Suffering

15 Things to Do in the Midst of Suffering

Suffering is a mystery we all face at some time in our lives. Whether it is physical, emotional, or spiritual, it will test our faith. Internationally known speaker Jeff Cavins shares personal insights he gained through his own physical pain. He shows us how we can join our sufferings with those of Jesus on the cross, bringing renewed meaning to the suffering we experience in our lives.

$4.50
1
The Healing Power of Confession

The Healing Power of Confession

Dr. Scott Hahn presents the historical and biblical origins of the Sacrament of Penance (Reconciliation). He provides an important guide for new Catholics, a source of renewal for "old hands", and a challenge to all of us to deepen our relationship with Christ through regular use of the Sacrament of Penance.


$3.50
1
Finding the Fullness of Faith

Finding the Fullness of Faith

Stephen Ray was raised in a devout, loving, Baptist family. In this presentation, he shares his amazing conversion to Catholicism and explains why he is convinced it is the Church founded by Christ over 2000 years ago.


$4.50
1
Unlocking the Book of Revelation

Unlocking the Book of Revelation

Dr. Michael Barber, host for Reasons for Faith Live on EWTN, is Professor of Theology and Scripture at John Paul the Great Catholic University. In this exciting presentation, he reveals the deep treasures hidden in the Apocalypse, demonstrating the practical implications for living in today's modern world. When is Jesus coming? Listen and discover the surprising truth!

$4.50
1
The Virgin Mary Revealed Through Scripture

The Virgin Mary Revealed Through Scripture

Drawing on his roots as a Protestant minister, Dr. Scott Hahn responds to key misunderstandings about the Virgin Mary. This captivating presentation explains the biblical and historical basis for the Church's teachings that the Virgin Mary is the New Eve and the Queen of Heaven.

$4.50
1
The Seven Pillars of Catholic Spirituality

The Seven Pillars of Catholic Spirituality

Have you ever felt disillusioned about your faith and filled with doubt? Matthew Kelly will take you on the adventure of a lifetime designed to help revitalize your spiritual life. Bold, practical, and inspiring, he will help you rediscover the true meaning of life as expressed in the seven pillars of authentic Catholic spirituality. One of our most popular talks for many years now, this CD is sure to stir your soul and invigorate your spiritual life.

$4.50
1
The Truth

The Truth

What is the meaning of life? Fr. Larry Richards tackles life's biggest question with straightforward, timeless, and often jolting answers. In this one-of-a-kind, life-affirming reality check, he unlocks the mysteries of our existence and opens our hearts and souls to the meaning of life. The Truth will give you concrete answers on how to live.

$3.50
1
Understanding The Lord's Prayer

Understanding The Lord's Prayer

The Lord's Prayer is the centerpiece of the most famous sermon ever preached - the Sermon on the Mount. The Catechism of the Catholic Church teaches that this prayer "is truly the summary of the whole Gospel." Blending scripture with the incredible insights of the early Church Fathers, Dr. Scott Hahn helps us discover the critical importance of this prayer in our daily journey of faith.

$4.50
1
Surviving with God in a Communist POW Camp

Surviving with God in a Communist POW Camp

Captain Guy Gruters was a fighter pilot during the Vietnam War and flew over 400 combat missions. He was shot down in 1967 and spent the next 5 years in POW camps, including the notorious "Hanoi Hilton". In this talk, he relates the incredible experiences of his capture and shares a unique message of how his faith and hope sustained him. He has been married for over 40 years and has 7 children.

$4.50
1
The Hidden Power of Forgiveness

The Hidden Power of Forgiveness

Jeff Cavins unmasks the trap of unforgiveness that prevents so many from living in the freedom of God's peace and halts spiritual progress. He explains with clarity how forgiveness frees not only the one who is forgiven, but the forgiver. The importance of this is shown in Christ's words, "As you forgive others, so I will forgive you" Matt. 6:14. Includes free bonus segment from Anger and Forgiveness by Deacon Dr. Bob McDonald.

$4.50
1
Discipline That Lasts a Lifetime

Discipline That Lasts a Lifetime

Dr. Ray is a psychologist, radio talk show host, husband, and a father to 10 adopted children. He explains that what is needed to raise well-adjusted children who are prepared to succeed in life in today's challenging environment is uncommonly good parenting. He draws from his wealth of knowledge and experience to discuss, with wisdom and humor, practical ways to succeed in this God-given calling.


Also Titled: You Are a Better Parent Than You Think



$4.50
1
Feminism Misunderstood: One Woman's Journey to Peace

Feminism Misunderstood: One Woman's Journey to Peace

Jane Brennan, a former member of NOW and former Planned Parenthood volunteer, shares her heart-wrenching story of abortion and subsequent years of depression to her final conversion to the Catholic Church.

"There is always hope."  Claudia - Black Mountain, NC


$4.50
1
St. Philomena - A Saint For Our Times

St. Philomena - A Saint For Our Times

Though St. Philomena lived approximately 1700 years ago and was only discovered in the catacombs of Rome in the early 1800's, her faithful witness as a young virgin who was martyred for her purity and for her fidelity to Christ speaks powerfully to our culture, and especially to young people. Commonly referred to as a "wonder worker", she has the distinction of being the only saint canonized solely on the basis of the profound miracles attributed to her intercession. Learn more about St. Philomena and what a powerful advocate we have before the throne of Almighty God.

$4.50
1
Seven Deadly Sins - Seven Lively Virtues

Seven Deadly Sins - Seven Lively Virtues

Join noted Professor of Theology and author, Fr. Robert Barron, in this revealing presentation as he sheds light on the Seven Deadly Sins - those great spiritual blocks that inhibit our relationship with God and others - and the antidote to them, the Seven Lively Virtues! Fr. Barron uses Dante's DIVINE COMEDY to expose these sinful patterns in our lives and show how they are effectively counteracted by the cultivation of virtue through the development of the gifts of the Holy Spirit. This fascinating journey shows the path that God has designed to lead us to health, happiness and holiness.


$4.50
1
For Love and Marriage

For Love and Marriage

Johnnette Benkovic shares her conversion back to Jesus Christ and the Catholic Church and the struggles that came when her husband didn't share her faith. She explains how the Lord blessed her in unexpected ways and, through the promptings of His Holy Spirit, showed her how she could better love her spouse through it all.


$4.50
1
Why I am Catholic When I Could be Anything Else

Why I am Catholic When I Could be Anything Else

Patrick Madrid gives compelling biblical and historical reasons for why he embraces the faith as a lifelong Catholic. He shares valuable insights into the beauty of the Catholic Church and its claim to contain the fullness of the deposit of faith given by Christ.


$4.50
1
The Shadow of His Wings

The Shadow of His Wings

Fr. Goldmann was drafted into Hitler's army while he was still a seminarian, and later assigned to the dreaded S.S. Throughout World War II he remained faithful to his Catholic convictions, proclaiming the faith to his Nazi countrymen.  From his wartime ordination to his construction of a prison chapel, this thrilling true-life adventure is an inspirational testimony to God's providence and the power of prayer.

$4.50
1
Praying the Rosary Like Never Before

Praying the Rosary Like Never Before

Dr. Edward Sri is a nationally sought Catholic speaker who appears regularly on EWTN, and is a founding leader of FOCUS (Fellowship of Catholic University Students). In this discussion of his book The New Rosary in Scripture: Biblical Insights on Praying the Twenty Mysteries (Servant Books), Dr. Sri shares John Paul II's practical strategies for praying the Rosary better, so that you can encounter Jesus more deeply in prayer.



$3.50
1
I'm Not Being Fed

I'm Not Being Fed

Jeff Cavins explores and responds to some of the reasons why so many people have left the Catholic Church for evangelical Christianity. As he presents the story of his return to Catholicism, Cavins also builds a case for why the Catholic Church is the Church founded by Christ.


$4.50
1
Aborting America: The Story of an Ex-Abortionist and Ex-Atheist

Aborting America: The Story of an Ex-Abortionist and Ex-Atheist

Bernard Nathanson is an American medical doctor from New York who helped to found the National Abortion Rights Action League, but who is now a pro-life activist. He gained national attention by becoming one of the founding members of the National Abortion Rights Action League, now known as NARAL Pro-Choice America. He worked with Betty Friedan and others for the legalization of abortion in the United States. He was also for a time the director of the Center for Reproductive and Sexual Health New York's largest abortion clinic. Nathanson has written that he was responsible for more than 75,000 abortions throughout his pro-choice career.

$4.50
1
Following the Call of Christ Biblical Stories of Conversion

Following the Call of Christ Biblical Stories of Conversion

Fr. Robert Barron, one of the great spiritual teachers of our time, presents these biblical stories of true conversion drawing from the riches of scriptural accounts. They were people just like you and me who were called by Christ - Bartimaeus, The Man Born Blind, The Woman at the Well, and Jonah and the Great Fish.




$4.50
1
Marriage and Family - Love Unveiled

Marriage and Family - Love Unveiled

Good relationships and marriages are of vital importance to individuals, the Church and society overall, but real effort and wisdom are indispensible to making them strong and lasting. In this focused presentation Dr. Scott Hahn shares key principles that he has lived out in his own life. His advice is practical and challenging and sometimes requires sacrifice, but it is sure to bear good fruit and bring forth many blessings.

$4.50
1
Jesus and the Jewish Roots of the Eucharist

Jesus and the Jewish Roots of the Eucharist

Dr. Brant Pitre uses the Hebrew Scriptures and Jewish tradition to frame the actions of Jesus at the Last Supper, and to provide a fresh look at the heart of Catholic practice — the Eucharist. By taking us back to the Jewish roots of our faith, Dr. Pitre gives us a powerful lens through which to see anew the bread of the presence, the manna, the Last Supper, and ultimately the meaning of the Eucharist.

$4.50
1
Gangland to Promised Land

Gangland to Promised Land

He was a serious "face" in London's East End. His Jackets were tailored to hold his machete and knuckledusters. His drug deals made him wealthy. Then something extraordinary happened...
John Pridmore spoke at the 2008 World Youth Day and on EWTN about what Christ has done in his life. His powerful story has inspired hundreds of thousands to grow in their faith.


$4.50
1
Feminine Genius

Feminine Genius


Building upon Blessed Pope John Paul II's writings about "the feminine genius", Colleen Carroll Campbell discusses the uniqueness of the makeup and vocation of women from God. She uses the lives of several female saints to help women recognize and use their gifts to live out their faith as Christians in the modern world. Author and columnist Colleen Carroll Campbell hosts EWTN's Faith and Culture program.

"Colleen uses John Paul II's message to show us how to affect the world with our true feminine genius. I'm going to share this with my own girls!" Sue - Fort Myers, FL



$3.50
1
Walking Through the Valley of the Shadow of Death

Walking Through the Valley of the Shadow of Death

Admiral Jeremiah Denton spent over seven years as a prisoner of war in Vietnam. In this moving presentation, he recalls how, through the power of prayer, he withstood extreme torture rather than betray God or his country. For his valor, he was awarded the Purple Heart, the Distinguished Flying Cross, the Air Medal, the Navy Cross, and the POW Medal. He is now a champion of various humanitarian causes.


$4.50
1
The Dead Sea Scrolls

The Dead Sea Scrolls

Dr. John Bergsma is an Associate Professor of Theology at Franciscan University of Steubenville, and was a Protestant pastor for four years before converting to the Catholic Church. In this enlightening talk, Dr. Bergsma shows how our respect for the traditional canon of Scripture, as well as our understanding of the Catholic Faith, can be greatly enhanced by the Dead Sea Scrolls- the greatest archaeological discovery of all time.

CLICK HERE FOR A FREE OUTLINE

$4.50
1
Who Do You Say That I am

Who Do You Say That I am

Fr. Barron illuminates with conviction that Jesus of Nazareth is the promised Messiah and revelation of God become man. He shows how Jesus fulfills the four tasks of the Messiah according to the Old and New Testaments and how the living legacy of Christ is proclaimed by the Church.


$4.50
1
The History of Salvation

The History of Salvation

This enlightening talk traces the high adventure of God's Divine Love Story revealed through the seven covenants that span from Eden to Calvary, beginning with Adam and culminating with Jesus. This presentation is the fruit of Monsignor Deutsch's studies during his sabbatical at Franciscan University of Steubenville, where he learned from scholars such as Dr. Scott Hahn and Dr. John Bergsma.


$4.50
1
From Love, By Love, For Love

From Love, By Love, For Love

Father Michael Schmitz tackles some of the most difficult topics in the Church today. With compassion, clarity, and humor, he shows that the Church's teachings on contraception and same-sex attraction are rooted in the yearnings for authentic love that is shared by all, who are made in the image and likeness of God.

"If everyone were to hear and apply this message, it would change the world." - Listener in South Carolina

$4.50
1
Contraception: Cracking the Myths

Contraception: Cracking the Myths

In this new revised edition of Professor Janet Smith's groundbreaking expose on the effects of the pill on modern society, she presents a God-centered view of sexuality that can bring married couples a joy that they could have never imagined. Backed by statistics and armed with decades of research, Prof. Smith shows the crippling effect of the contraceptive culture on our relationship with God, our romantic relationships and marriages, the culture at large and our physical and mental health.

Click here

to check out the accompanying PowerPoint presentation.

$4.95
1
Trust in the Lord

Trust in the Lord

This talk is practical. It is for everyone-beginners and masters in the spiritual life. We all know that growth in holiness is largely about growing in trust in our Lord Jesus Christ. But how does one do that realistically?
In this talk, Bismarck Diocese Vocations Director Fr. Tom Richter will describe in concrete terms what the interior act of trust looks like, and what we must choose in order to grow in trust.

$4.50
1
The New Sexual Revolution

The New Sexual Revolution

Studies have proven that few factors determine a teen's physical, social, educational, emotional, and even financial health as profoundly as their choice for purity or promiscuity. In this dynamic talk, 14-year youth ministry veteran Chris Stefanick shows us exactly what we're up against and how to turn the tides in the culture war for your teen's purity. Chris speaks to over 50,000 teens, young adults, and parents every year. 

This talk is proudly presented by

Lighthouse Catholic Youth. 

$3.50
1
Attack on Religious Liberty - Battle for the Faith in Mexico

Attack on Religious Liberty - Battle for the Faith in Mexico

Patrick Madrid explores the history of the persecution of the Catholic Church in 1920s Mexico. He recounts the sufferings and martyrdom that thousands of Catholics endured to defend their religious freedom during the Cristero War. 

 

This talk was previously titled "Battle for the Faith in Mexico: Viva Cristo Rey!"

$3.50
1
Answering Atheism

Answering Atheism

How can we evangelize an unbelieving world? In this talk, Ken Hensley uses simple, effective logic to show how the atheistic worldview inevitably leads to contradictions that can't hold up to sound reasoning. After hearing this talk, you will be empowered to conclusively demonstrate how unbelief leads to the destruction of morality, meaning, and even knowledge.

$4.50
1
In God We Trust: Religious Liberty - Your First Amendment Right

In God We Trust: Religious Liberty - Your First Amendment Right

During these challenging times there is a critical need to focus on defending our religious liberty as stated in the First Amendment of the United States Constitution. In these highly informative presentations, Bishop David Malloy and Monsignor Eric Barr show us that protection of religious freedom is fundamental for Catholics, as well as for people of all faiths.

Also including a brief presentation by Timothy Cardinal Dolan on faithful citizenship.

$4.50
1
Winning the Culture War

Winning the Culture War

To win any war, there are three things that you must know: that you are at war, who your enemy is, and what weapons or strategies can defeat him. Acknowledging that our culture is clearly in crisis, Dr. Peter Kreeft shows us that the only weapon strong enough to defeat the demons of this age is saints. Above all, Dr. Kreeft assures us that victory is assured for those who hope in Christ, because good always triumphs over evil.

$4.50
1
Relativism

Relativism

Pope Emeritus Benedict XVI considered Moral Relativism to be the most dangerous dictatorship existing in the world today. in this presentation, Chris Stefanick debunks the powerful and epidemic myth of relativism with honesty, relevance, humor, and logical validity, offering a much-needed perspective on the current status quo of morality. This talk is proudly presented by

Lighthouse Catholic Youth.

"If you only listen to one CD this year, listen to 'Relativism' by Chris Stefanick!" - Matthew Kelly

$3.50
1
We Must Go Out: the Sacrament of Confirmation

We Must Go Out: the Sacrament of Confirmation

Presented by Lighthouse Catholic Youth:  

It is through the Sacrament of Confirmation that a Catholic is fully initiated into the Church. Why then do so many newly confirmed Catholics never come back? In this talk, Fr. Mike Schmitz addresses this concerning trend in the Catholic Church with honesty, energy, and humor. Focusing on the true nature of Confirmation, Fr. Mike challenges ALL Catholics to see this sacrament not as a "graduation" from the Church, but as a commissioning by the Holy Spirit to go out into the world and proclaim the Gospel.

$3.50
1
Prove it, God ... and He did!

Prove it, God ... and He did!

As a lifelong Catholic, wife, and mother of three, Patty Schneier struggled with the Church's teaching on contraception – as many men and women do today. Her discovery of Pope John Paul II's 

Theology of the Body

 revealed to her the fullness of God's plan for sex and marriage, and led to a dramatic renewal of her marriage and her faith. Patty now speaks around the country about the challenges she faced on her amazing journey.

"Be careful ... This may turn your life upside down!" 

- Most Rev. Paul Zipfel (Bishop Emeritus of Bismarck, ND)

$4.50
1
Detox

Detox

Within every heart is a battlefield between love and lust. In this presentation, Jason Evert discusses the strategies necessary to win the war and uproot the vice of pornography once and for all. Jason is an internationally known Catholic author and speaker. He has spoken to more than one million people around the world and is the author of more than a dozen books, including Pure Manhood and Theology of His Body. This talk is proudly presented by Lighthouse Catholic Youth. 

Some material may not be suitable for children as this talk deals with adult content.

$3.50
Total Value
$207.45
Customer Comments