Other Recommended Titles:
True Devotion to Mary by St. Louis de Montfort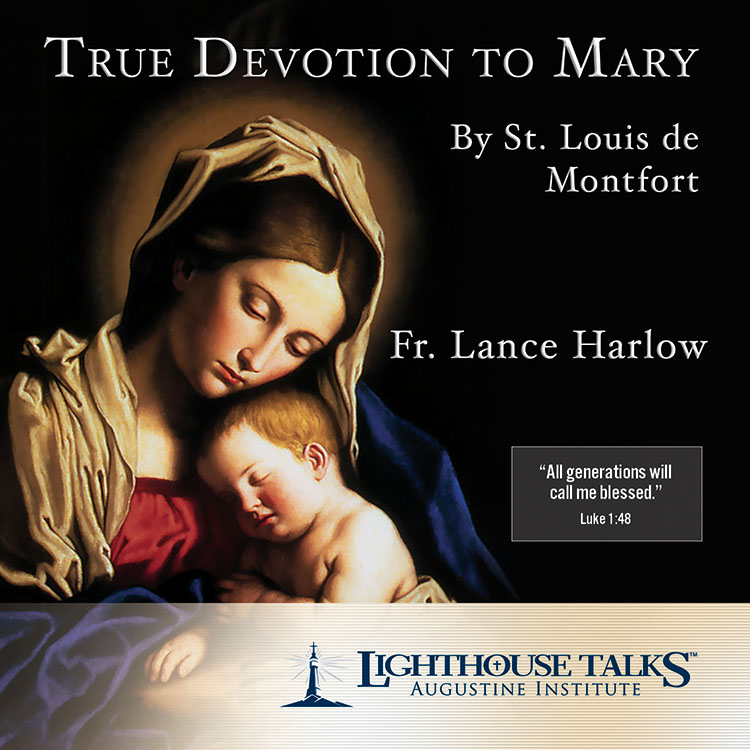 The intercession of our Blessed Mother is especially important for our troubled times. St. Louis de Montfort's classic work on Marian consecration, True Devotion to Mary, provides a well-trod path to the profound graces that the Lord offers through Mary's prayers for those who trust in her intercession. In this presentation, Fr. Lance Harlow offers clear and insightful commentary drawn from the Saint's text to help explain this consecration to Jesus through Mary and the spiritual effects one can expect. This will greatly benefit all who are interested in Marion consecration.

Pricing:
Min Qty
Price for each
CD
MP3
1
$

4.50

$

3.50

10
$4.00
$3.00
20
$3.50
$2.50
50
$3.00
$2.00
100
$2.75
$1.75
Customer Comments
This presentation leads one on an outstanding faith journey to a greater love and knowledge of Jesus through Mary, His mother and ours. Charles - Cockeysville, MD
I am beginning 33 Days to Morning Glory. This cd helped me under St. Louis' book better and will aid me as I start my retreat. Vicki - Weston, MO
This cd was amazing, I have listened to it about 40 times and I am still finding new things to meditate on. You need more cds about devotion to the Holy Mother and why it is so important. Dawn - McHenry, IL
Fr. Lance Harlow spoke in terms that was easy to understand. I felt like I was sitting right there in his audience. I have the CD almost worn out, it plays in my car everyday and each time I listen to it I learn something new. It was a gift from a Legion of Mary member at my church, St. Dunstans in Fredericton, NB. Thank you for offering this to people like me who want to learn more about Mary and have a close relationship with her. Marlita - Fredericton, NB
FR. Lance W. Harlow was funny and shared a lot of information. I was put at ease after listening to the CD. I would purchase more. Veronica - Tucson, AZ
The presentation explained how devotion to Mary can bring us closer to Jesus. Mary is our mother who wishes us to speak to her each day. The cd describes specific ways to grow closer to Mary. This cd is my first Lighthouse program. I was very impressed and look forward to future presentations. Maureen - Louisville, KY
An amazing CD. Helped me to rediscover, understand and practice True Devotion and brought renewed meaning and purpose to my consecration to Jesus through Mary. Makes the practice of True Devotion real and practiceable. This is a very important CD and topic for those who want to grow in holiness and want to learn (as St. Louis puts it) the easiest, shortest, most perfect and most secure way to lead us to union with Our Lord. Scott - Kitchener, ON
It encouraged me to further my devotion to Mary in the way of St Louis de Montfort Gail - Apache Junction, AZ
Beautiful way to learn about the True Devotion to Mary as I prepare for the Total Consecration. Helen - Fargo, ND
This talk came to me at the perfect time, which is usually how God works. I was glad he began his talk by outlining the false devotions. I was especially glad to hear the reminder that love of Mary is not in competition with Jesus. I was raised Catholic and have always kind of loved Mary by default. But this talk opened up the power and beauty of Mary and the possibility of really knowing and loving her. I started my consecration today! Theresa - PA