Other Recommended Titles:
Included In:
No Turning Back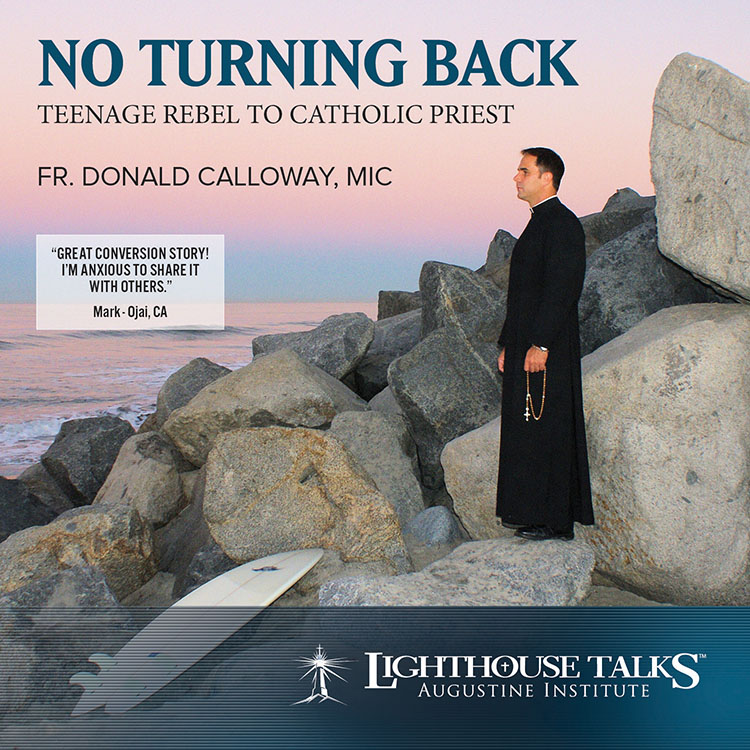 How is a diehard agnostic transformed into a fervent apostle of Christ? Fr. Donald Calloway, a former drug dealer, will have you on the edge of your seat as he candidly shares the amazing story of how he was unexpectedly led into the Catholic Faith and to the priesthood by God's grace and the intercession of the Blessed Virgin Mary. His conversion can be compared to that of St. Augustine. Formerly titled: Former Drug Dealer to Catholic Priesthood
Preview:
Store Pricing

Min Qty
Price for each
CD
MP3
1
$

3.50

$

2.50

5
$3.40
$2.40
10
$3.30
$2.30
20
$3.20
$2.20
50
$3.00
$2.00
100
$2.75
$1.75

Parish Pricing

If you are ordering for a Lighthouse Parish Kiosk, please login to see the the parish price for this item.

Lighthouse is pleased to offer discounts to parishes, schools, organizations, or benefactors that partner with us in our mission of evangelization and catechesis. If you are interested in bringing a Lighthouse Kiosk to your parish or other community, please contact 866-767-3155 or email customer.service@lighthousecatholicmedia.org for more information. If you are a parish contact, you can to view parish pricing.
Customer Comments