Other Recommended Titles:
Seven Deadly Sins - Seven Lively Virtues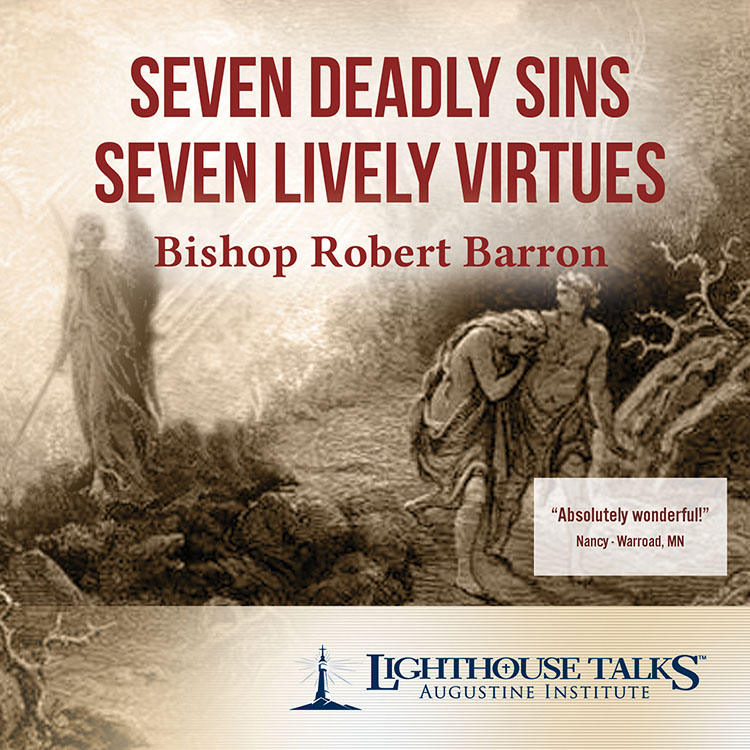 Join noted Professor of Theology and author, Fr. Robert Barron, in this revealing presentation as he sheds light on the Seven Deadly Sins - those great spiritual blocks that inhibit our relationship with God and others - and the antidote to them, the Seven Lively Virtues! Fr. Barron uses Dante's DIVINE COMEDY to expose these sinful patterns in our lives and show how they are effectively counteracted by the cultivation of virtue through the development of the gifts of the Holy Spirit. This fascinating journey shows the path that God has designed to lead us to health, happiness and holiness.

Preview:
Pricing:
Min Qty
Price for each
CD
MP3
1
$

4.50

$

3.50

5
$4.25
$3.25
10
$4.00
$3.00
20
$3.50
$2.50
50
$3.00
$2.00
100
$2.75
$1.75
Customer Comments
This CD is going to stay in my CD player in my car for a long time! Great advice on how to defeat the deadly sins in our lives. Ann Marie - Rock Hill, SC
The way it was presented - well done. Easy to understand, want more on same subject. I am buying a couple for friends! Marie - Bradenton, FL
This talk was amazing in depth. It appealed to me initially as my undergraduate work is partly in literature, and it pulled from the Divine Comedy. Fr. Barron did a masterful job formulating his theses, and expounding them in a clear and concise manner so all could understand them and be inspired. This CD is a must for Lighthouse Catholic Media to keep producing! Ira - Veneta, OR
Such practical advice - I listened to it many times! Sharon - St.Cloud, MN
I am a fan of Fr. Barron. His talk on the seven deadly sins, as well as practical advice against them, was extremely informative. Marco - Tallahassee, FL
I really enjoyed the way that Fr. Barron presented the information. It called me to consider how I am living and to examine myself. Tina - Sodus, MI
It helped me review information I already knew. It was affordable. Roseann - Utica, NY
I enjoyed the style, the information, and the way it was presented. I enjoyed the intellectual aspects and the reference material taken from Thomas Aquinas and the others. Paula - Fitchburg, MA
I enjoyed playing the CD as I drove. Paul - Clifton, CO
The great explanations and practical advice Fr. Barron gave were wonderful. He really showed the love and care of our God in helping us remain far from sin and close to Him. I really enjoyed how Fr. Barron tied in humor and wit into a topic that is naturally serious, and I especially enjoy the anecdotes from Dante's Divine Comedy. Tyler - Manhattan, KS
This talk was extremely helpful in making me recognize the seven deadly sins and what to do to fight them. My standard question is "Does this help me get to heaven?" This one gets a resounding, solid yes! Allen - Downingtown, PA
Fr. Robert Barron is an excellent and dynamic speaker. We used this CD in our men's fellowship group as a guide, and we researched and studied each deadly sin separately. You provide a great service, and we are always looking as a fellowship group for new and exciting programs to grow and serve in our Faith. John - St. Clair Shores, MI