Other Recommended Titles:
The Shadow of His Wings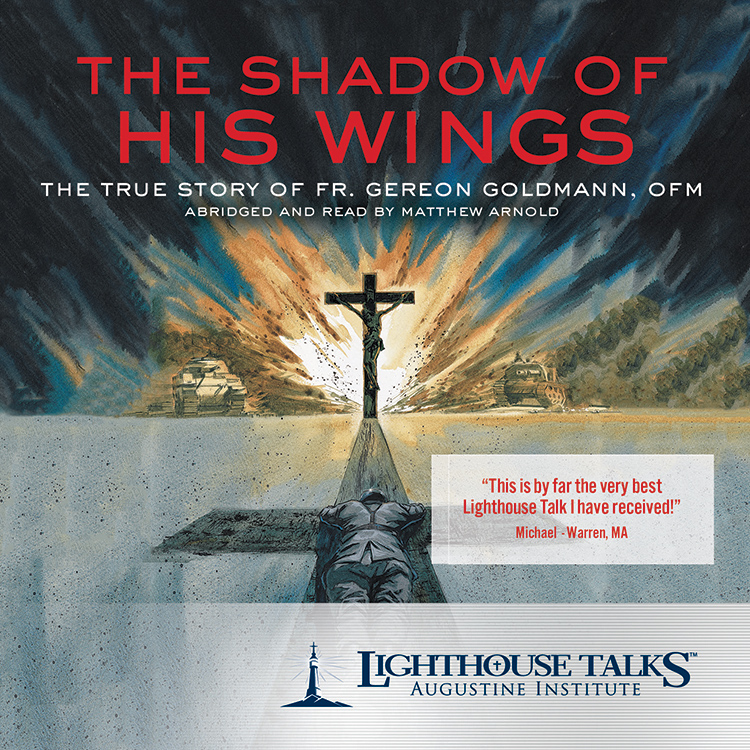 Fr. Goldmann was drafted into Hitler's army while he was still a seminarian, and later assigned to the dreaded S.S. Throughout World War II he remained faithful to his Catholic convictions, proclaiming the faith to his Nazi countrymen.  From his wartime ordination to his construction of a prison chapel, this thrilling true-life adventure is an inspirational testimony to God's providence and the power of prayer.
Pricing:
Min Qty
Price for each
CD
MP3
1
$

4.50

$

3.50

10
$4.00
$3.00
20
$3.50
$2.50
50
$3.00
$2.00
100
$2.75
$1.75
Customer Comments
WOW! The story of Father Goldmann is truly riveting, and a great testimony of deep faith in God. Pat - Burlington, ON
I love listening to this story , have loaned it to another person , who I felted needed a pick up in his faith. Peter - Larne
It gave true witness to the power of prayer. It was also interesting, because it was a true story and had historical value. It was an engaging story that might whole family enjoyed listening to. In fact, I think the fact that it was history, not just faith, made it more interesting for the men/boys in the car. It was a great story. Janet - Ridgefield, CT
This is by far the very best CD I have receivedfrom Lighthouse. I had never heard of Fr Gerone but now I pray to ask for his intercession because I am convinced he is a saint. What a great example of courage and humility and boldness and witness in the very belly of the beast! Forget James Bond or Indiana Jones, the boys and men of the parish want to be Fr. Gerone. I only wish that I had a fraction of the virtue that this man does, a true Catholic soldier who did not waver or crumble at adversity, but faced it like a the true holy man he is. Our Church could convert the world if we had generals like Father. This CD also taught me the power of faith and especially how to distrust myself and put full confidence in God and how to pray more often and more humbly. I loved this story so much I went and bought the book to get more details! Michael - Warren, MA
I have been studying the Third Reich in depth for several months now, but this subject was from a very different angle. The amazing faith of everyone, from Fr. Goldmann to the "little sisters" was inspiring. God's Providence shines through it all. Thank you for making this CD possible. Linda - Omaha, NE
The story was completely engrossing and inspiriing. We have purchased many copies of the CD from our parish bookstore and have given it to friends, Catholics and non-Catholics alike. All agree the testimony to be compeling. It's like listening to a modern Apostle Paul. Joy - Mt. Dora, FL
Very stirring and spellbinding Gary - Fargo, ND
How God provided for this priest through the most difficult of circumstances.
I have read the entire book previously, and the CD did an excellent job of condensing the material, and was read very well. The power of prayer is the message that was effectively delivered in the CD. It has renewed my desire to prayer for others. Lynne - Bakersfield, CA
Very inspiring following Fr. Golmann's life. It was wonderful to hear how God opened every door for Fr. G to become a Priest under the most trying circumstances. God surely watched over him and as the war progressed he lived his life in the Will of God. Over 30 years ago I read the "Cost of Discipleship" a story about the life of Diedric Bonnehoffer. It was a very moving book that I have not ever forgot. I look forward purchasing this book to read more of the life of Fr. Goldmann. John - ST. Petersburg, FL
I was so taken with the story of Fr. Goldmann not only from the spiritual perspective but for the historical content. It was very inspiring to hear how powerful prayers can be and it gives you hope that, if the situation arises, that I would have the faith and courage needed to sustain. Stephen - Seaford, NY
This was so inspiring, I shared it with a youth in our parish who is obviously a candidate for the priesthood. I also read the book. The CD is completely faithful to the book. Rebecca - LaGrange, KY