Other Recommended Titles:
The Virgin Mary Revealed Through Scripture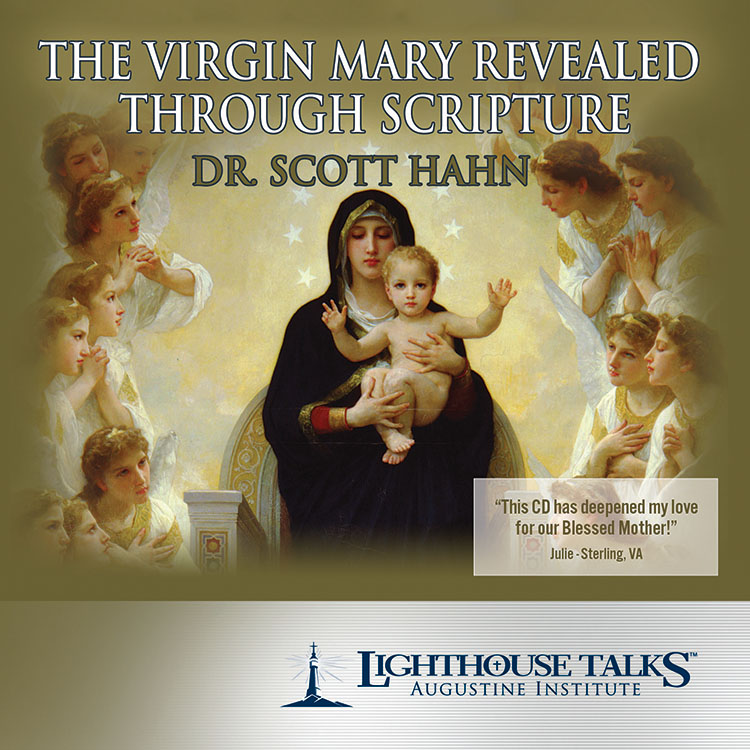 Drawing on his roots as a Protestant minister, Dr. Scott Hahn responds to key misunderstandings about the Virgin Mary. This captivating presentation explains the biblical and historical basis for the Church's teachings that the Virgin Mary is the New Eve and the Queen of Heaven.
For a limited time only -- Get this CD for FREE when you buy the book
Amazing Grace for Mothers
.
Click here to learn more.
Preview:
Pricing:
Min Qty
Price for each
CD
MP3
1
$

4.50

$

3.50

10
$4.00
$3.00
20
$3.50
$2.50
50
$3.00
$2.00
100
$2.75
$1.75
Customer Comments
It is such a blessing to listen again and again! I am a cradle Catholic but have lots to learn! Carole - Avondale, AZ
All I can say is that it really hit home. No one can do without our Blessed Mother! Roland - Thibodaux, LA
I have always believed in Our Blessed Virgin Mary, Our Mother. This CD has confirmed my belief. Margarida
Dr. Hahn's energy and presentation kept me interested and wanting to hear more of his presentations. Daniel - Botkins, OH
I love to hear about Mary. I pray my rosary daily because I love and honor Mary. Judy - Hague, SK
I was actually in tears many times driving down the interstate as I listened to this talk. I feel a disconnect in my relationship with Mary. I do not know how to get to know her better - but this helped to understand Mary in a more personal way. It also helps to defend and teach about our mother when others may not understand our devotion to her. Sarah - Grand Forks, ND
Scott Hahn is an amazing speaker who engages his audience. He backs all of his claims up and walks you through the bible to show you how the Virgin Mary has been revealed to the Catholic Church in both the Old and New Testaments. Robert - Tampa, FL
This reaffirmed for me all the things that I already knew. But it was great to have the actual biblical references. Dawn - McHenry, IL
As a Protestant who wants to convert to Catholicism, the biblical explanation, interpretation and significance of the blessed queen touched my heart as I remembered all these questions I had about Catholicism and its stance on the Blessed Virgin. I even cried because it not only satisfied my doubts, but also because of the power involved. Emmanuel - Milford, MA
It helps us answer questions from our friends who aren't Catholic how Mary is scriptural. Peter - Hollywood, FL
How great it is to know that we have a Mother in the Blessed Virgin and that she is with us at all times. I have just completed a year of continuing conversion and have fallen in love with Mary. Joyce - Madison, WI
It was easy to understand, and the speaker kept my attention. I like having bible verses to support the information. Kevin - Glen Allen, VA
I have listened to this CD several times. It is wonderful to learn how to get to know your heavenly Mother. I am a returning Catholic and had forgotten the importance of the Virgin Mary. This CD has re-started my interest, admiration, and even love for our heavenly Mother. Thank you! Margarita - Kyle, TX